Cox Automotive Australia, in partnership with Women in Automotive, presents the first Barbara Cox Woman of the Year Award and a $5,000 prize towards the winner's personal development.
Cox Automotive Australia, in partnership with Women in Automotive, presented its inaugural Barbara Cox Award to Eleni Mitakos at their 'Women with Drive' event, to celebrate International Women's Day in Melbourne today. Eleni is the Founder of Galmatic, an organisation which runs car maintenance workshops and school incursions for girls and since 2007, has since taught and influenced over 1 million females.
Named after the late Barbara Cox – who served as director of Cox Enterprises, Cox Automotive's parent company in the USA – the award aims to recognise and reward women who demonstrate a commitment to innovation, leadership, or community within the automotive sector. The award was open to any woman working within the automotive industry across Australia. In addition to gaining recognition across the industry, the winner also receives $5,000 to spend on her personal development.
The Award is proudly sponsored by Cox Automotive and Andrew Parry-Okeden, Barbara Cox's grandson and Non-Executive Director of Cox Automotive Australia, is the local patron.
Eleni was selected as the winner of the award from over 25 quality nominations from all industry sectors and from all over the country. The judging panel had a difficult job selecting the short list of finalists and then an even tougher job to select the ultimate winner.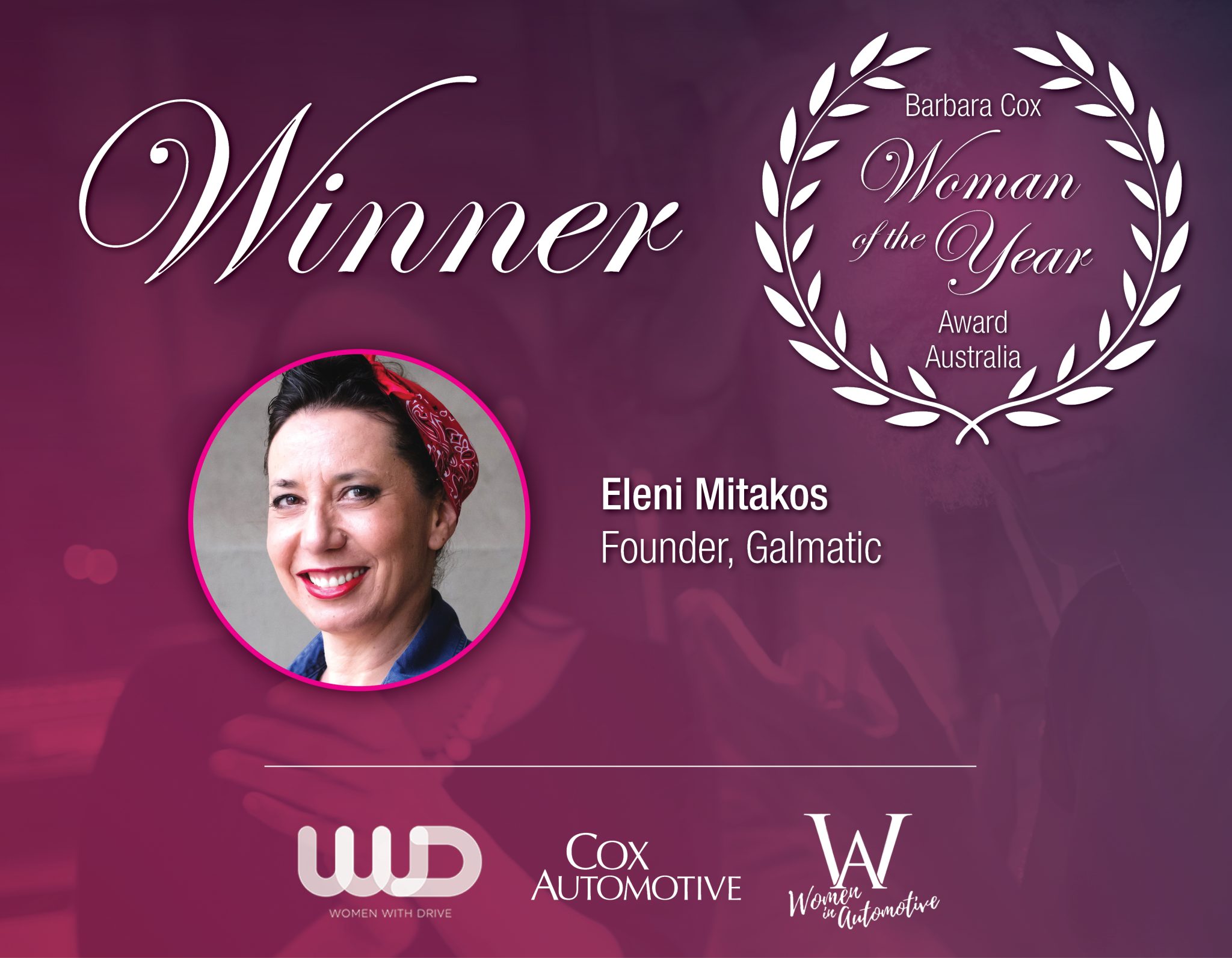 HR Director for Cox Automotive Australia, Silvia Balovcikova said, "The four shortlisted ladies should be tremendously proud of their achievements. They all amply demonstrate the qualities we were looking for in our candidates; inspiring leadership, a commitment to innovation and contributing to their industry and their communities. Congratulations to Eleni who impressed the judging panel with her drive and commitment to empower women and teenagers to equip themselves with life skills to ensure safe vehicle practices and maintenance since she established Galmatic in 2007".
"As well as teaching students in her school programs, she also works with local councils to offer car maintenance workshops to women in the community. In conjunction with the NSW Education Department she was part of a pilot program 'Driven to Succeed' where Galmatic travelled through regional NSW and worked to expose regional girls to see the automotive industry as an apprenticeship option. Following this program there was an increase of 20% in the amount female apprenticeships taken up within the regions. The impact Eleni has made over the last 15 years is incredible and she is a truly worthy winner of the inaugural Barba Cox Award".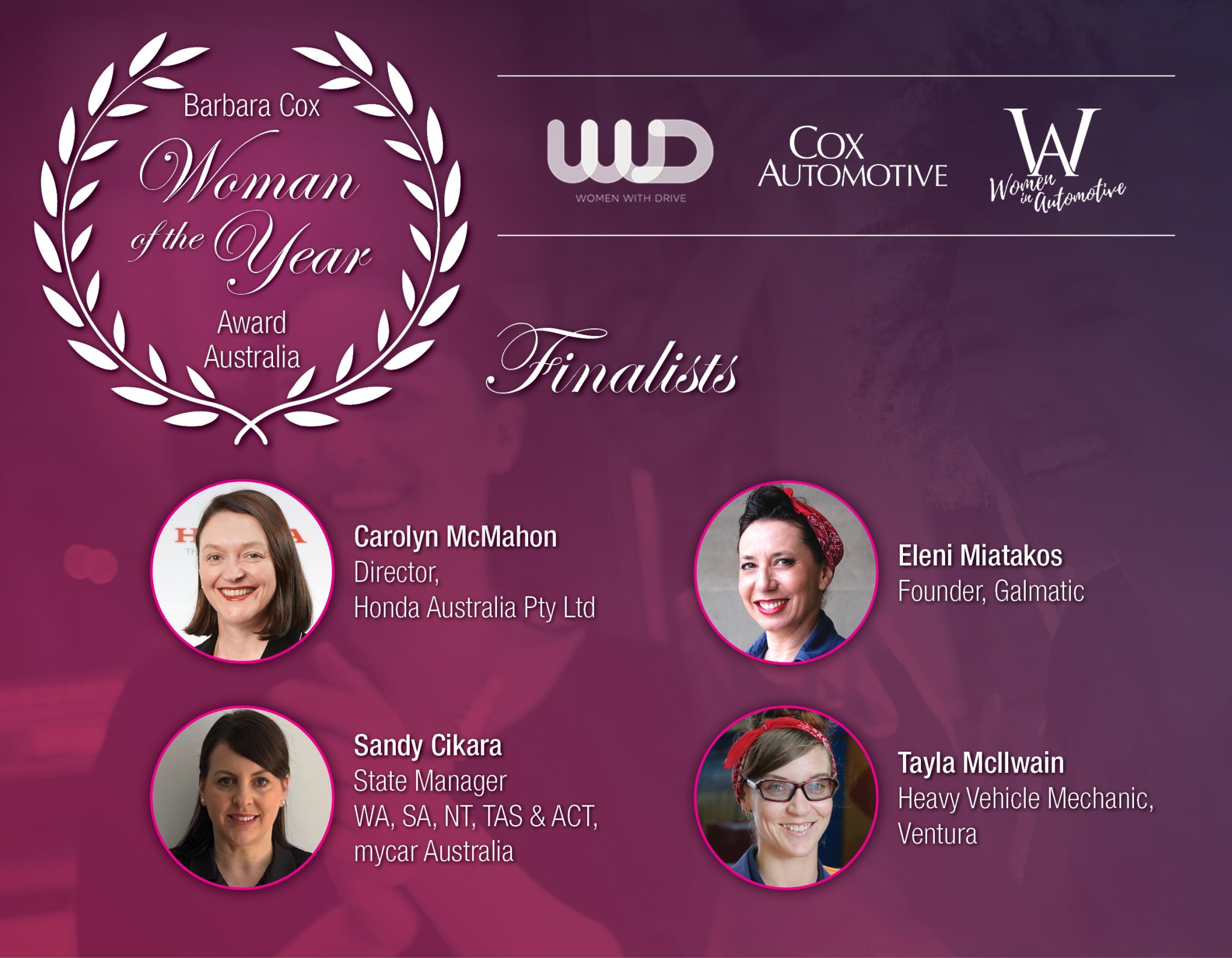 The three finalists who also impressed the judges with the quality of their character, their achievements and their contribution to the industry, were Carolyn McMahon, Director at Honda Australia; Sandy Cikara, State Manager (WA, SA, NT, TAS, ACT) at mycar Australia; and Tayla McIlwain, Heavy Vehicle Mechanic at Ventura.
Silvia continued, "The Barbara Cox award is one way we're showing our dedication to fairness, diversity, and inclusion in the automotive sector. Introducing Eleni Mitakos as the 2023 Barbara Cox Woman of the Year is an honour".
Dr Imogen Reid, Manager of Women in Automotive, said: "Women in Automotive is proud to partner with Cox Automotive on this highly esteemed industry award; one that provides an opportunity to showcase the incredible, but often overlooked, contribution women make to the automotive industry – at all levels. It is so encouraging to see the award generate so many entries in its first year and we look forward to supporting the award and seeing how it grows in future years".
Learn more about the Barbara Cox Women of the Year Award finalists
Carolyn McMahon – Director of Automotive
Honda Australia
Carolyn's career started at Honda Australia as PA to the MD for Motorcycles and Power Equipment, moving around the business and to her current position as Director of Automotive and Board member of Honda Australia. She holds the most senior level role for a local female with the Honda Asian & Oceania region. She has exhibited unwavering dedication to the success of her teams and that of the company. In particular introducing programs that support women, champion pay equity and celebrate and mentor women in her business.
Sandy Cikara – State Manager WA, SA, NT, TAS and ACT
My Car Australia
Transferring from the retail and hospitality industries into automotive 11 years ago, Sandy has quickly made a mark at MyCar. Passionate about people and helping them to grow and be successful, Sandy sees what they do as more than just fixing cars. Internally she champions people from diverse backgrounds, particularly apprentices and females working in the industry. She absolutely prides herself and the company on understanding and then exceeding their customer's needs.
Tayla Mcllwain – Heavy Vehicle Mechanic
Ventura
From a young age Tayla wanted to work on vehicles and how they function. She commenced an apprenticeship as a mature age apprentice at Ventura Bus Lines in Dandenong and was the first female apprentice mechanic at the time. She became the lead and face of Trades Women Australia – Workplace Diversity Project which allowed her encourage other women to pick up an automotive trade and highlighted the importance of diversity and inclusion in the workshop. As of January 2023 she is the first ever female qualified heavy vehicle mechanic at Ventura Bus lines and wants this achievement to lead the way for other female apprentices they now have in the workshop.
Press Enquiries
For press enquiries, please email us at caa.pressenquiries@coxautoinc.com