Dealers who embrace the future make more profit and sell more cars
Forward-thinking dealers who are prepared to invest in the latest digital technologies – software, automation and data – sell more cars, make more profit, and retain more customers at service time.
This is the overarching finding from a new study by our parent company in the US, Cox Automotive, based on a survey of more than 500 dealers. While specific to the United States, there are lessons for Australia.
This is especially true in the current climate of economic uncertainty and ongoing challenges around supply, logistics, and both finding and keeping the best employees.
When it comes to sales, marketing and inventory management (known as variable operations), the survey and accompanying report categorises the dealers more or less evenly into three sets.
These are 'Static' dealers with a very traditional approach; 'Modern' dealers with a balance of manual processes with some digital technologies; and 'Forward-Thinking' dealers using the latest integrated software, automation, and data tools.
On the fixed operations or service side of things, most dealer respondents were not as advanced in their digital capabilities. Dealers' fixed operations are thereby divided into only two groups: 'Static' and 'Forward-Thinking' – in this case meaning a combination of manual and automated processes.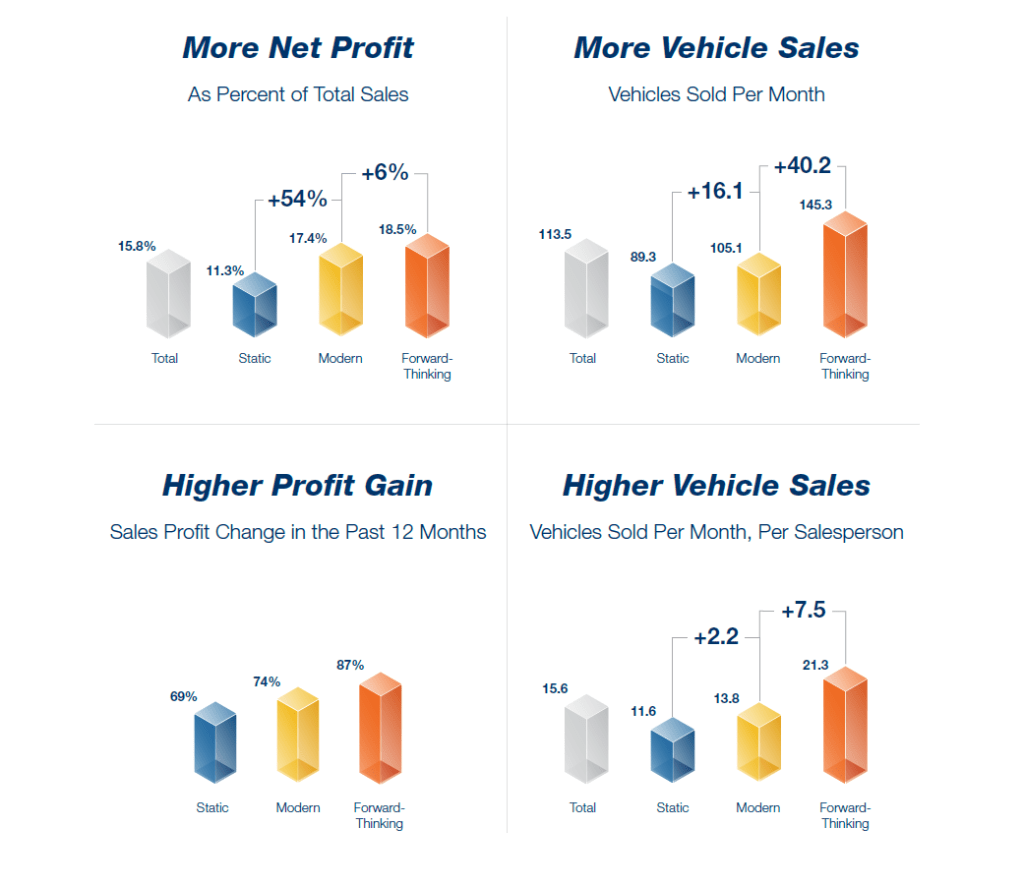 Key findings:
Forward-Thinking dealers made 64% higher net profits than Static dealers and 6% higher net profits than Modern dealers.
Forward-Thinking dealers increased their sales profits over the last 12 months by 87% overall, compared to 69% for Static dealers and 74% for Modern dealers.
Forward-Thinking dealers sold 63% more vehicles per month than Static dealers and 40% more vehicles than Modern dealers.
Sales staff at Forward-Thinking dealers sold almost twice as many vehicles per month (21.3 each) than those at Static dealers (11.6 per month). Sales staff at Modern dealers sold 13.8 vehicles per month.
So what precisely differentiates these Forward-Thinking dealers from their competitors, who quantifiably perform at a lower level?
Marketing:
Forward-Thinking dealers use data to create personalised communications. They glean customer insights by keeping their CRM up to date and integrated with their website; they have dedicated content marketing staff; and they push conquest service marketing campaigns to owners in their area.
Tomorrow, they'll be leveraging AI virtual assistants to, for instance, respond to and pre-qualify leads before handing them over to sales staff.
Managing inventory:
Forward-Thinking dealers currently demonstrate a long-term vision for inventory that guides their acquisition strategy, always use market data rather than going by gut, and use digital stock management and syndication tools. They also provide 360-degree imagery and video for each VIN in stock.
Sales:
Forward-Thinking dealers today offer advanced search filtering options on stock, track customers' equity position to trigger communication at optimal trade-in time, and use consumer data to offer relevant accessory products with transparent pricing.
Tomorrow they'll likely pivot to future trade-in valuations using forecast values, use intelligent damage detection software for trade-in procurement, using integrated API to offer a change-over figure factoring in the trade value, and relying on AI to automate online deal structuring and lender decisions.
Service:
Fixed operations presents a particular opportunity for dealers, but also comes with some challenges – namely what to do about EVs and how to retain customers for longer without losing them to the independents.
Forward-Thinking dealers today use the latest digital solutions to interact with customers, from basics such as making online service appointments with quote estimates, to securing loan vehicles within the same scheduling experience.
Sales departments in these dealers also make sure to hand-off recent customer information to the service-marketing team, integrate their CRM with service inspection and appointment tools (such as Cox's Xtime software), and offer pickup services for recall campaigns or general services.
Tomorrow these same dealers will roll out digital multi-point inspections and quoting, with video chat for customer approval. They'll also provide options to check in via kiosk or mobile app, and provide video chat with service technicians to share vehicle issues and repair information. They can also geofence loan vehicles, with automated alerts sent back if the car leaves a set area.
Where to invest for targeted improvement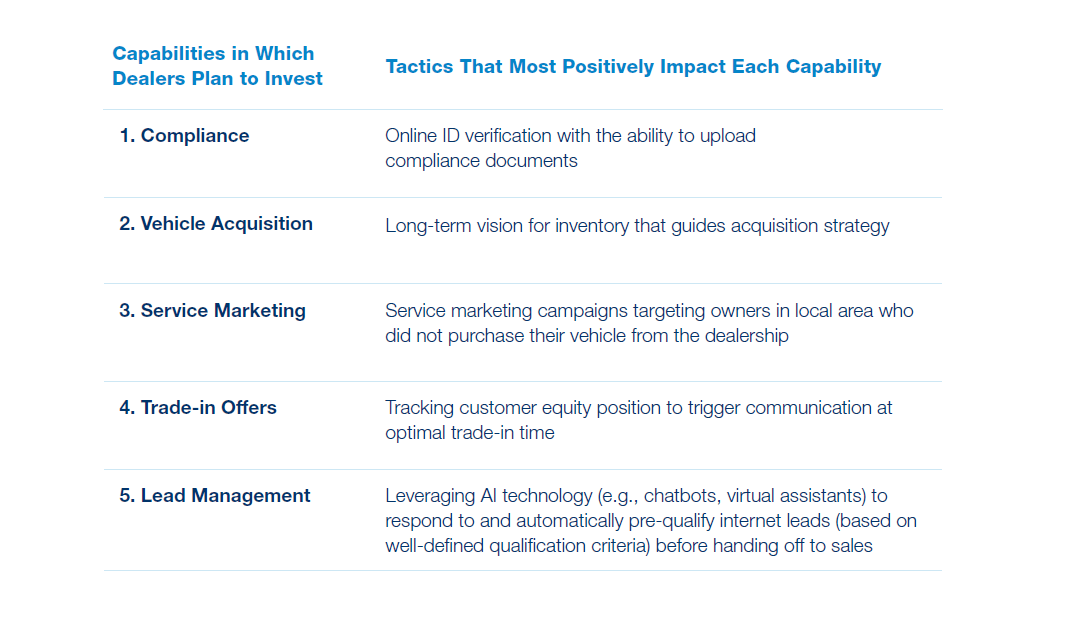 On the topic of streamlining your service operations, we encourage you to learn of the possibilities with Xtime, our service experience platform designed to help you balance your workshop mix, improve your throughput, maximise resource efficiencies, and ultimately increase the percentage of return customers coming back to your service centre. Xtime's digital dashboard can be integrated into the overwhelming majority of DMS platforms in Australia – more than 140,000 dealer service bookings are made through the platform every month.
Dealers who subscribe to Xtime have access to their own personal concierge there to help maximise its strengths, in the context of your specific business. But augmenting this is the most recent 'Xtime Masterclass' which demonstrates potential uses of this proprietary software.
You can watch this masterclass here and keep an eye out for our next iteration over the coming months.
Ultimately, advancing your operations isn't just about embracing more digital technology. It's about advancing your dealership's performance. If you're either a static or modern dealer, moving to the next level yields significant business results.
Forward thinkers earn more net profit and make more vehicle sales – and they do both at a faster rate.
Become a Forward Thinker
Download the full report here and start adopting the mindset and tactics that bring major gains across Marketing, Inventory Management, Sales and Service.
Ready to connect with our local team in Australia?
Click here to submit an enquiry and a member of our team will be in touch. Alternatively, you can visit our Retail and Data solutions website here to discover how our connected suite of digital products can deliver to all your dealership requirements.