Used car prices down as supply improves, while auction volumes hit three-year high
Average dealer used vehicle prices have declined for nine straight months
Dealer used and demonstrator inventory levels are at their healthiest since March 2020
Manheim auction sales volume hits three year high, though prices are softening from record levels
Economic hardships sees older used vehicles retain higher relative pricing than newer ones
Retail used price movements
Average used vehicle prices in Australia's dealerships are currently the lowest they have been in almost two years, while availability as measured by stock levels continues to improve at a rapid pace.
The Cox Automotive Australia (CAA) dealer delisted price index was 137.8 at the end of October, marking the ninth successive month of decline. The figure is now 7.0% lower than when average used and demonstrator vehicle prices in Australia's dealers peaked in August 2022.
The CAA used vehicle price index, adjusted by MSRP and volume weighted, uses a 100-point base period of December 2019. The current index of 137.8 means, on average, a used vehicle is 37.8% more expensive than in December 2019, just before the COVID pandemic saw used prices spike on the back of new vehicle shortages.
While price indexes are generally falling this year irrespective of vehicle age and type, older cars continue to retain higher average price indexes than newer ones do. The pattern is consistent, suggesting the best value in relative terms is to be found on newer and typically more expensive inventory.
SUVs aged under 2 years have a price index of 116.3, whereas SUVs aged 8-10 years have an index of 139.4; pickups under 2 years have an index of 123.5 against 153.3 for those aged 8-10; and passenger cars under 2 years have a price index of 121.9 against 166.9 for those aged 8-10 years.
Across all vehicle age brackets in the CAA database, the overall price index for traditional lower-riding passenger cars is 147.6, which is notably higher than the price index for SUVs (130.7) and pickups (139).
This fact is interesting considering the ongoing decline in sales of these sorts of vehicles in the new car market, as OEMs roll out ever more SUVs and offer fewer new hatchbacks, sedans and wagons. It suggests customer demand for these vehicles might still be higher than what OEMs are providing the market with.
Retail used sales and stock
As expected, the ongoing reduction in average used vehicle prices correlates with continuous growth in levels of second-hand inventory in dealers – doubtless due in part to five of the past six months yielding all-time delivery records for new vehicles, resulting in a wave of trade-ins.
Available used and demonstrator stock in dealers is now at the highest level it has been since March of 2020, and up 37.5% since January this year. Inventory levels also grew 6.7% month-on-month in October and sit 28.3% higher than during the correlating month in 2022.
Dealer used vehicle sales, on the other hand, were up a more modest 15.4% over October 2022, and actually declined 4.3% month-on-month. This emerging divide between availability and interest has pushed overall market days supply of dealer used inventory to 65 days, the highest it's been across the past 12 months.
Dealers on average are currently taking 41 days to re-sell a used vehicle. Some 39.4% of these sales required a price change before being delisted, by an average discount amount of 7.1% between listing and sale.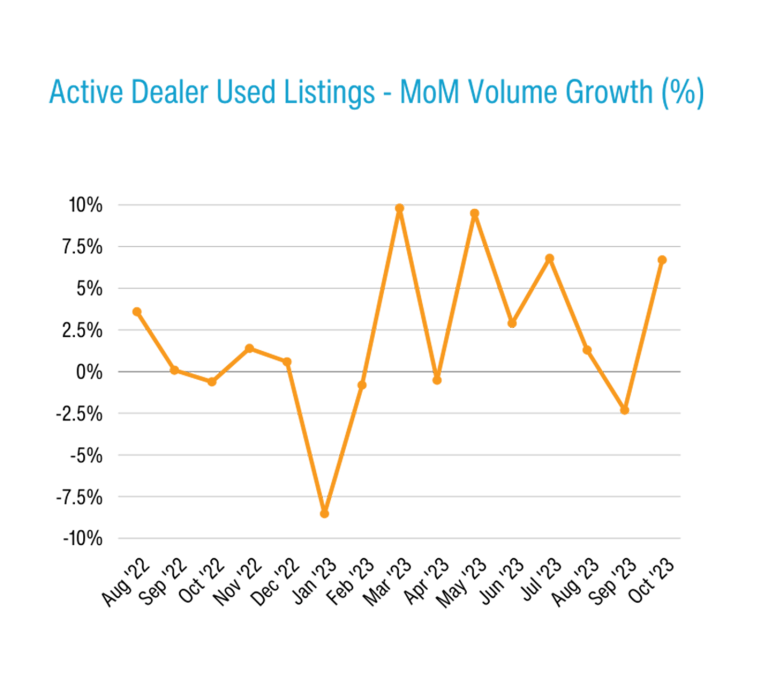 EV update
Battery electric vehicles (BEVs) and plug-in hybrid vehicles (PHEVs) make up only 0.3% of used vehicle sales and 0.5% of inventory at present – no shock given these vehicles really only started to spike in sales on the new side of things last year, and are therefore largely still with their first owners.
While the sample size is low, we're seeing the used price index for BEVs and PHEVs (116.3) staying lower than other vehicle types, as issues such as customer doubts around used battery health, and factors discouraging used BEV demand such as new-car-focused fringe-benefits tax exemptions and state rebates playing their part.
On the plus side, we are also seeing signs of these volatile used BEV and PHEV prices stabilising as the data set slowly grows, with the overall peaks and troughs in average price movements notably more straight and steady over the past quarter.
Wholesale used insights update
In regards to the wholesale market, Manheim wholesale auction volume doubled in October 2023 over 2022, and grew 20% month-on-month. That's the best volume result in three years, and demonstrates the uptick in business, government and rental fleet activity across the new and (subsequently) second-hand markets.
The Manheim wholesale price index is 139.2, which is 13.5% lower than it was this time last year, and down 16.8% from its May 2022 peak, meaning vendors need to recognise that wholesale prices are not likely to be as high as they were last year.
As we're seeing on the retail side, older Manheim auction vehicles tend to hold higher price indexes than younger models. For example, vans and buses 2-4 years old have a wholesale auction price index of 140.8, whereas those aged 8-10 years have an index of 233.3.
There appears to be a link between demand for older wholesale stock – which naturally drives up prices – and the wider economic headwinds such as interest rates and inflation that are causing households to tighten their belts and look for more affordable vehicles.